Bridgestone / Firestone
Home
» Bridgestone / Firestone
Over the years, Bridgestone/Firestone has introduced many new tire technologies. While each has a specific goal and result, they are all designed to make great tires even better. These technologies have addressed important features including, wet handling and traction, tire punctures, tire wear, ride comfort, noise reduction and many more. Please use the navigation in the upper left to view some of our key tire technologies.
---

UNI-T: ULTIMATE TIRE TECHNOLOGY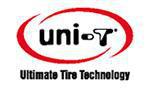 UNI-T® The Ultimate Network of Intelligent Tire Technology is a comprehensive combination of tire technologies so advanced, it takes tire performance to a higher level. From material to designs... tread patterns to tire shapes... rim fitments to tire construction.... UNI-T will do more than just change tires, it will change the way you drive. Tires created using UNI-T deliver outstanding comfort and control behind the wheel, giving drivers precise handling, outstanding wear, increased fuel efficiency, reduced noise, and a smooth, quiet ride. Once you experience driving on tires with UNI-T you'll never want to go back to anything else. UNI-T® consists of three core technologies: CO•CS®, O-Bead®, and L.L. Carbon®.
CO•CS®(Computer Optimized • Component System) is a computerized process that optimizes tread design, casing shape, materials and construction for maximum tire performance. Using proprietary software, our engineers are able to optimize the performance characteristics of each specific tire line. COCS works by optimizing the given tread design and tire shape through a cyclic calculation process. For example, the emphasis for an ultra-high performance tire would be maximizing wet and dry handling performance - without significantly sacrificing ride comfort.
CO•CS® has five key optimized areas and consumer benefits. Areas optimized via CO•CS depend on the targeted performance characteristics of each specific tire or tire line. Examples include the Bridgestone Potenza RE750 high performance tire, which is optimized for handling and quiet, and the Firestone Affinity LH30 touring tire, which is optimized for comfort, quiet and treadlife.
O-Bead® changes the way the tire interacts with the rim of the wheel, improving performance. There are many facets of O-Bead. Bead cable design is one of the most important. If you cut a conventional tire into cross sections, you would notice a cable that runs through the sidewall, implanted just below the lip that mounts to the rim of the wheel. This cable - known as the "bead" - helps the tire grip the wheel; strengthening and supporting the entire tire assembly. On most tires, the cable has an overlap where its two ends meet (see illustration). Because the cable is doubled at this overlapping joint, the overlap makes the entire tire assembly less round. It also creates tiny, unwanted gaps when the tire is attached to the rim of the wheel. O-Bead eliminates the overlapped joint in the bead cable by using a single, continuous strand of cable (see illustration). This creates a tire assembly that is more precisely round. A more precisely round wheel assembly improves driving on straightaways and handling stability, producing consistent control and superb steering response.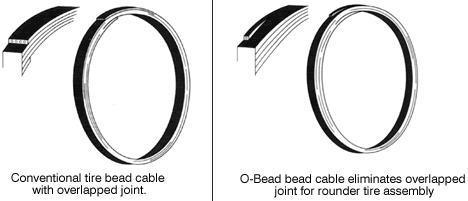 Long Link Carbon® is an improved reinforcing material that increases the wear resistance and reduces the energy loss of rubber. Almost all tires use carbon black as reinforcing material; however, L.L. Carbon is a high structure carbon than what is typically used. Conventional carbon black particles form in clusters that look like bunches of grapes. L.L. Carbon® replaces these clusters with long chains. These long chains resist wear better by dissipating cracking energy over a larger area than the grape-like cluster, thus extending tire life.
---

ADDITIONAL TECHNOLOGY
Conventional sipes are wide at the top, narrow at the base and decrease in size as the tread wears down, sacrificing wet performance with tire wear. Thus, as a conventional tire wears, it loses its tread pattern and looks more and more like a racing slick. Wet performance suffers, because shallower, worn tread channels lose the ability to evacuate water efficiently. This means more water comes between the tire and the road, resulting in less actual contact and reducing wet traction and handling.
Bridgestone/Firestone's Key Hole Sipe is a tread pattern feature that helps solve these problems. A Key Hole Sipe is a slot with a cylindrical channel at the base. In a cross section of the tire tread, this slot-and-channel configuration resembles a key hole. As the tread wears, the "key holes" emerge to help ensure a consistent tread pattern. These sipes help maintain continued wet performance and new tire appearance.
5º Pitch Noise Reduction is a specialized approach to tread pattern design that reduces tire noise levels for quieter driving. Tread block elements are arranged to produce noise-canceling sound waves when the tire is in motion. Because the sound waves created by the individual blocks constantly cancel each other out, the noise of the tire moving on the road surface is significantly reduced.
Power-V is a tread pattern design born of Firestone's Indy® technology for rain tires. By dispersing water to the sides of the tire, the v-shaped pattern allows better water discharge and improves wet performance. The Power-V pattern elements incorporate a high/low angle approach to better discharge water from the area in contact with the wet road.
Conventional tires evacuate water in a straight line. VRG (Variable Radius Groove) is a tread design that controls water displacement with a high-volume, side-to-rear spray. This unique pattern maintains a larger contact patch, which delivers excellent wet grip and dramatically reduces the risk of hydroplaning.
Uni-Directional Pattern is a tread pattern design that maximizes both wet and dry performance, as well as other tire characteristics. By specifying that the tread pattern is to be mounted on the vehicle in a single direction only, the many design compromises found in conventional tires which can be mounted in two directions are eliminated. This gives us the ability to include a wider variety of specific performance characteristics such as high resistance to hydroplaning in each tire.
Spiral WrapT is a continuous nylon wrap that encircles the whole tire. Spiral Wrap provides a higher level of uniformity, helping the tire hold its original shape, and enhancing performance, which helps achieve high speed capability.
---

Here are a few Descriptions of Excellent Bridgestone / Firestone Products:
Bridgestone Insignia SE200
The Insignia brand means excellent value. Now, added technology features make the Insignia SE200 tire an even bigger value for drivers. UNI-T technology improves wet handling and silica added to the tread improves wet traction. Along with all-season construction and the security of an excellent warranty, the Insignia SE200 gives you performance excellence--just what you expect from a Bridgestone brand tire.
Bridgestone Turanza LS-H with UNI-T AQII
All the elements of style, comfort, and performance come together in these advanced Turanza LS all-season touring tires. With Bridgestone exclusive UNI-T AQII technology, Turanza LS-H, LS-V, and LS-Z tires perform in wet weather as well as on dry roads. And there's no compromise of comfort or a smooth, quiet ride. As for design, the tire tread and sidewall are detailed to look as sophisticated as today's luxury cars.
Bridgestone Potenza RE92
The Potenza RE92 all-season, world-class high performance tires complement today's sporty coupes, sedans and sports cars. The Potenza RE92 became popular because of its extensive use as original equipment on vehicles like the Acura Integra, Infiniti Q45, Mazda 626 and Toyota Camry.
Bridgestone Dueler H/T with UNI-T
This all-season tire is ideal for the driver who likes adventure with quiet ride comfort and sleek styling. UNI-T technology delivers outstanding wet weather traction. It's a performance combination that lives up to the standards on today's most popular SUV's and Cross Utility vehicles.
Firestone Destination A/T with UNI-T
The Firestone Destination A/T is the SUV and light truck all-terrain tire for drivers who want to go wherever the road leads--from main streets to the woods. The Destination A/T with UNI-T technology is built to adapt to travel in wet or dry weather and gives you an extra measure of confidence in handling and braking on those rainy days. All-terrain performance is complemented by added technology that promotes a smooth and quiet ride.
Firestone Transforce HT
The Transforce AT delivers all-terrain wet and dry performance that you can count on. Combine polyester and steel light truck construction with a full spiral nylon cap ply. Add UNI-T technology. Finish with continuous shoulder ribs with deep shoulder slots and advanced high modulus tread compound. The result is traction in rain and dry conditions, reduced irregular wear, and chip and tear resistance for a tire that works as hard as you do.
Bridgestone Blizzak WS-50 with UNI-T
The BLIZZAK WS-50 winter tire features an exclusive TUBE MULTICELL® compound developed by Bridgestone to deliver snow and ice performance without studs! And with the addition of UNI-T technology, the BLIZZAK WS-50 helps drivers of imported and domestic sedans, coupes, and sports cars meet the challenge of adverse winter conditions.
For more information, visit: bridgestonetire.com